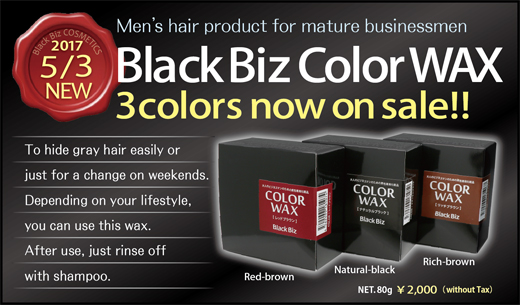 BlackBiz Men's hair product series,
『 BlackBiz Color WAX 』 3 colors now on sale!!

When you hear color wax, you may think
"it only lasts for 1 day for your hair to stand out".
Color Wax is suitable if you want to change your image dramatically for one day
for special occasion such as an event or party.
Now we are offering you a color wax with relaxed color variation
for mature businessmen.



『 BlackBiz Color Wax 』

comes in 3 relaxed colors.

| Red-brown | Natural-black | Rich-brown |
| --- | --- | --- |

It's not so much of change hair color dramatically but
suitable for someone who want to hide gray hair
easily or if you just want a small change on weekend.
This color variation is perfect for someone who wants " a small change " .

Since

『 BlackBiz Color Wax 』

is based on foundation,
it is easy to remove with just shampooing at home after use .
Please try according to your purposes.

You can try this

『 BlackBiz Color Wax 』

at any of our salon.
● If you have never tried color wax
● If you want to compare with previously used color wax
● If you want to try on your hair to see how the color turns outbr> Please ask us.



We are looking forward to having you at our salon!!






【 Click here to order BlackBiz Color WAX 】
↓  ↓  ↓  ↓